Students who are remotely located from the Headquarters or other branch Dojos have an opportunity to learn Seibukan Jujutsu through videos. They can also get promoted in kyu-ranks upon sending a recording of a required demonstration and getting qualified by the headquarters instructors. Once they are ready for a black-belt level, they can be tested at either the headquarters in Monterey, California, or any other branch Dojo. This is an unique opportunity to get initiated in the training of Seibukan Jujutsu anywhere you are in the world!
Seibukan Jujutsu Extension Program Procedures
1) Find a training partner
You will need to have one or more training partner who you will study and pursue the art together.
2) Become a registered member of Seibukan Jujutsu
Once you and your training partner(s) are ready, please register as a student of International Seibukan Jujutsu Association. The registration form can be Emailed to you upon request, then you can fill it out and return it to the Headquarters by scanning as a PDF or JPEG format, and attaching it on a Email, or mailing the hard copy. The fee is US $55 for a life-time membership. This includes an introductory booklet, a Seibukan Jujutsu patch for your uniform, and written requirements for the Gokyu level.
3) Prepare a Seibukan Jujutsu uniform
You will need to purchase a white top and bottom martial art uniform of your choice. If you wish, we can also provide a Jujutsu uniform set at the price of $70, which is recommended and used at Seibukan Jujutsu Honbu Dojo (Headquarters). The Seibukan Jujutsu patch, that will go on the left side of the chest, will be sent with a registration packet.
4) Purchase the first level DVD and study
You can begin your training through the instructional videos. The teachings are divided into the level requirements. The first level to begin with is Gokyu, the yellow belt level. This DVD includes Kancho Toribio's welcome message, class formats, warm-up exercises, instructions of the first 19 basic techniques, and a sample demonstration for Gokyu. Each kyu level DVD costs US $35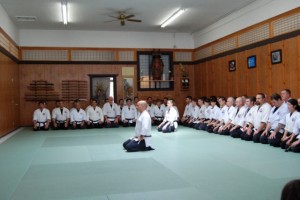 5) Record your demonstration and submit to Honbu Dojo
You can advance through the kyu-levels (Gokyu, Yonkyu, Sankyu, Nikyu and Ikkyu) through DVDs, and send the headquarters your kyu-level demonstration/testing by recording on a DVD or VHS video. The test fee is $35 that is due when you submit your recording of your demonstration. Upon reviewing the recording, you will receive a certificate and feedback, as well as a permission to purchase a DVD of the next level.
6) Become a black-belt
In order to become a black belt, you should test under a qualified teacher (Sandan or above), either at Honbu Dojo in Monterey California, or at any other Seibukan Jujutsu branch Dojo. Another way is to arrange to hold a seminar and your promotion at your Dojo with Kancho Toribio or other certified instructor. Seibukan Jujutsu is a progressive martial art, and it honors the learning pace of each student. the minimum required time to become a black-belt is 1 year from the time of registration.
7) If you are a black-belt in any other martial art(s)…
We honor your skills, experiences in martial arts and beginner's mind. Therefore we will accelerate your learning process of Seibukan Jujutsu. Once you and your partner(s) registered, we will need a copy of your certificate that proves your black-belt level in the arts that you are a black-belt. Upon reviewing your qualification, we will send you an authorization for you to lead a Seibukan Jujutsu Study Group in your area, as well as a written permission to translate written materials into your language if any other language than English is used. If you are qualified to be on the accelerated program, the minimum required time to become a black-belt is 6 months from the time of registration. Once you reach a black-belt in Seibukan Jujutsu, you can choose to become an authorized Seibukan Jujutsu instructor to teach the art and begin promoting your students below black-belt levels.
Contact us to register