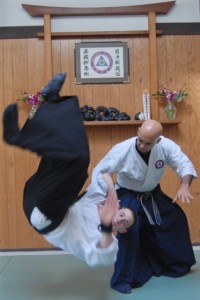 We are celebrating the 17th Anniversary of Seibukan Jujutsu on June 5th and 6th. I would like to personally invite you to this eventful gathering. When Seibukan Jujutsu was born on June 1, 1993 I asked for the strength to guide students and myself for the next 21 years to raise the art with honesty, integrity and discipline.
The first 7 years of "awareness" were designed to train students, the second 7 years of "assessment" were dedicated to raise instructors, and we are now half-way the third year of the third 7 year-phase of "action" which is committed to the Dojo development and global expansion of Seibukan Jujutsu.
We will be meeting in Honbu Dojo. You will receive the two-day intensive training in a progressive and uplifting atmosphere with a supportive and positive group. Classes will be taught by myself and other certified instructors that I am very proud of. On top of that, each day will conclude with a high-rank demonstration.
I will sincerely honor and appreciate the presence of Dojo-cho, Uchideshi, and all the members of Seibukan Jujutsu at this memorable celebration.
Please register with this 
registration form
at your earliest convenience to reserve your spot as well as to make this event go smoothly.
Thank you, and let's keep going!
Julio Toribio
Seibukan Jujutsu Kancho
Participate in this action-packed two day seminar and …
Enjoy the 10 classes of training withvariety of instructors.
Deepen your knowledge in SeibukanJujutsu 7 stages; Fire, Water, Earth,Wind, Void, Consciousness and Balance.
Immerse yourself in the positiveand motivating energy.
Observe and celebrate the two high-rankdemonstrations; Nanadan (7th degreeblack-belt) and Kudan (9th degree).
Meet Seibukan Jujutsu instructors andwarriors from other Dojo.
Polish your skills in the intensive andprogressive training.
Be a part of this memorable event.
Seibukan Jujutsu Taikai 2010 Schedule
Saturday, June 5:
10:00 – 12:00  Training
12:00 – 1:30 Lunch Break
1:30 – 2:00 Training
2:00 – 2:30 Training
2:30 – 3:00 Training
3:15 Nanadan Demonstration

Ortega Shihan
Potluck celebration to follow
Sunday, June 6:
10:00 – 12:00 Training
12:00 – 1:30 Lunch Break
1:30 – 2:00 Training
2:00 – 2:30 Training
2:30 – 3:00 Training
3:15 Kudan Demonstration

Rosas Renshi
Potluck celebration to follow
Fees (Check or Credit Card Accepted)
$120 Both Days Training
$75 One Day Training
Save $10 pre-registration by May 29th!
http://seibukanjujutsu.com/wp-content/uploads/2016/02/Seibukan-logo-trans-150.png
0
0
Kancho
http://seibukanjujutsu.com/wp-content/uploads/2016/02/Seibukan-logo-trans-150.png
Kancho
2010-05-11 20:24:52
2016-05-03 21:23:07
Seibukan Jujutsu Taikai 2010